Gallery > Railways > UK > Rye & Camber Tramway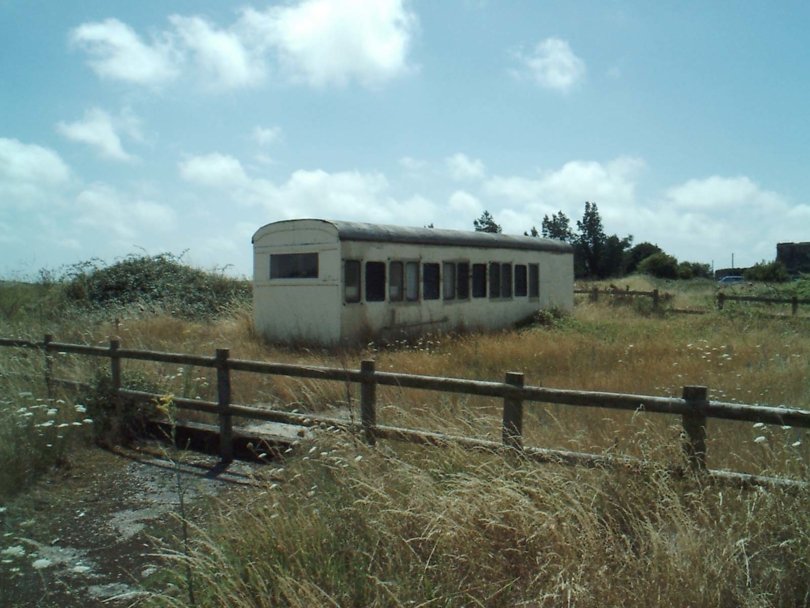 Rye & Camber coach
Coach body being used (I'm guessing) as a holiday chalet, at Rye Harbour.
Comments
Posted by Stuart Baker on September 28 2007 at 04:47
Whilst this photo is labelled as being a Rye and Camber carriage this cannot be so. The R&C only had two carriages, the larger one disintegrating when being taken apart to go to Amberley Museum (only the underframe renmains), tha smaller one disappearing before the war. From the phot it looks like a standard gauge carraige.
---
Posted by Richard Greenhough on August 28 2007 at 05:58
This carriage is not from the Rye & Camber Tramway - it looks like it is from the standard gauge. The R&C only had two carriages, one of which was destroyed when the line was dismantled; the remains of the other (frame and bogies) are currently at Amberley Working Museum but may be transferred to the Colonel Stephens Museum at Tenterden.

RSG 28/8/07
---
Posted by David Mason on January 4 2009 at 06:10
Coach does not match drawings of 3g rye & camber (its a chopped up standard guage coach ex se&cr ?)
---
Posted by JayD on June 21 2011 at 08:57
This is an old BR carriage.

Unknown to a lot of folks there was also a BR line that once came off the Rye/Hastings line down to the Harbour.

If you look on google earth (or google maps in sat mode) at the main railway you can see it branch off and trace the old line down to the harbour.

That would also explain how its on the wrong side of the Harbour (the tram route is on the Camber side) because i doubt anyone would buy a tram train carriage and then foot the bill to get it onto the other side. It seems fairly logical that this was a BR unit that was either unwanted or bought from them when they packed up and ripped up their tracks.
---